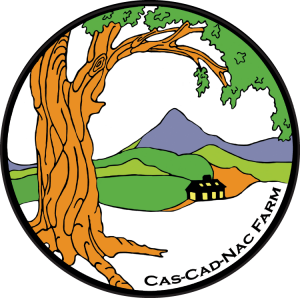 an & Jennifer Lutz
490 Wheeler Camp Road
Perkinsville, VT 05151
(802) 263-5740
alpacas@cas-cad-nacfarm.com
alpacaexcellence.com
The 2017, 2018, and 2019 Futurity Large Huacaya Breeder of
the Year, Cas-Cad-Nac Farm LLC is located in northern New England on the southern slope of Mt. Ascutney in Weathersfield, Vermont. The home of Ian and Jennifer Lutz and their two sons, the farm is also home to one of the premier Huacaya alpaca herds in North America. Numbering between 200 and 300 animals depending upon the time of year, CCNF has been in business since 1997 and are now celebrating their 24th year in operation. Cas-Cad-Nac is known not just for the quality of its alpacas but also for the amazing support they offer to their customers. In addition to offering breeding stock and stud services domestically, CCNF has also exported animals overseas and international inquiries are always welcome. Cas-Cad-Nac Farm is proud to be a sponsor of the 2021 Futurity Show & Sale, as always the most important and competitive event on the North American alpaca show circuit!