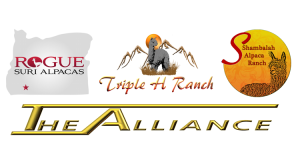 Rogue Suri Alpacas – Jason and Beverly Brehm
4002 Dry Creek Rd. Medford, OR 97504
(541) 292-6844
roguesurialpacas.com
Shambalah Alpaca Ranch – Hillary Devin
7157 E Park Dr. Franktown, CO 80116
(303) 588-2076
Shambalahalpaca.com
Triple H Ranch – Jennifer Hack
4098 N State Highway 67 Sedalia, CO 80135
(765) 346-7604
Triplehalpacas.com
. . . and it started with one spectacular male . . . The Alliance is three independent Suri Alpaca ranches that originally came together as part of a business arrangement to co-own GLR Nico. Nico was the first of many to be added to The Alliance's stable of elite herdsires. What began as a business arrangement has grown into a strong, long-lasting friendship and mutual admiration based on our shared goals — for ourselves, our clients and for our industry. The Alliance is Rogue Suri Alpaca, owned and operated by Jason and Beverly Brehm located in Medford, OR; Shambalah Alpaca Ranch, owned and operated by Hillary Devin located in Franktown, CO, and Triple H Ranch, owned and operated by Jennifer Hack located in Sedalia, CO. With over 28 years combined Suri breeding and showing experience, The Alliance has the same goal: create superior breeding stock with advanced Suri fleece traits for show and sale year over year. By combining their knowledge of genetics, fleece traits and conformation traits, The Alliance is making consistent breeding decisions based on data-driven results. The Alliance is invested in the success of the alpaca industry. Beverly Brehm is an AOA Certified Halter Judge for Suri and Huacaya. Jennifer Hack is the President of The Alpaca Owners Association. Hillary Devin is the President of Alpaca Breeders of the Rockies, an AOA affiliate. Three separate entities with one shared vision creates a strong triumvirate completely vested in the success of our clients and the Alpaca industry. Let us help you on YOUR alpaca adventure!