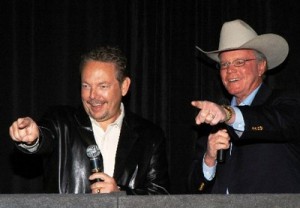 Celebrity Sales LLC is an auction and event planning company, specializing in the promotion and alpacas and other livestock. Tim Vincent and Tom Simmons started the business in 1988, after they met while both were buyers at the same llama farm. Both Tom and Tim have spent over 30 years in the livestock industry, and have raised, and been involved in the sale of horses, llamas, alpacas and exotic animals such as reindeer, miniature donkeys, ostriches and emus. Their business is committed to serving the livestock industry.
Since 1989 Celebrity Sales LLC has held annual llama and alpaca auctions, generally selling 50 to 150 lots at each sale. Celebrity Sales also hosts and produces the world's largest llama and alpaca futurities, which pay out over $100,000 and $200,000 respectively. These events have become cornerstones of the industries they serve, and draw crowds from virtually every state, as well as Canada, Australia, New Zealand, and several South American countries.
It has always been the goal of Celebrity Sales LLC to fulfill the needs of both the alpaca and llama industries. As the industries have grown and spread geographically, a need became apparent for an economical, year round way for breeders to present their production to buyers and for buyers to be able to view the production of many farms without traveling many thousands of miles. Our new classified section will allow you to reach new customers both within and outside the alpaca business with low cost, full-featured ads allowing you to advertise and sell alpacas, real estate, and other products and services.
Celebritysales.com also provides information on industry news, upcoming events, past show and sale results, and registration for future events.