Majestic Meadows Alpacas & Boutique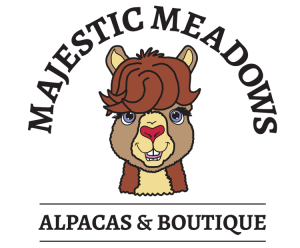 Faye & Jeff Farley
4195 Abbeyville Road
Medina, OH 44256
(330) 241-0977
faye@majesticmeadowsalpacas.com
MajesticMeadowsAlpacas.com
Majestic Meadows Alpacas & Boutique is a family-owned and operated business located in Medina, OH on approximately 20 acres. Our love for animals and desire for an investment the whole family could enjoy prompted us to look into the investment potential of raising alpacas and we've never looked back!
In 1994 we purchased our first alpaca and since then we've included numerous champion-winning and champion-producing alpacas. The alpaca business is everything we ever wanted in a family business allowing us time for family life and time to create a wonderful family business we can all be a part of. We're proud to say our selective breeding program has blessed us with multiple champion winning and ribbon winning alpacas.
Our goal from the outset has been to be the best we can in both quality of alpacas we produce, sell and raise and in the service we provide. Maintaining that high standard has given us the advantage of producing multiple award-winning alpacas and the opportunity to meet and build life-long friendships with alpaca breeders from across the U.S. We've had many successes in the alpaca business over the years and credit much of our success to our wonderful beginning and continued goal to breed and raise the best alpacas.
There truly is no other business we could have ventured into that would have given us the best of both worlds, time for our family and life-long friendships we've forged in this business, and the opportunity to start and create a successful business on our own.