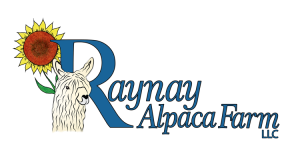 Ray & Candy McMahan
1897 Ashland Road
Ruffin, NC 27326
(336) 707-4352
mgbcandy@aol.com
raynayalpacas.com
Raynay Alpaca Farm began their journey in 2008. Wow, what a ride it has been! We love surrounding ourselves with the beauty of farm living and raising these wonderful suri alpacas. We are located in Caswell County, NC and our farm consists of 100 acres and around 70 alpacas that includes some agistors. We also have a farm store on the property and a bed and breakfast.
Our greatest accomplishment to date is having one of our bred and owned males crowned as a 2x Supreme National Champion Suri Light, Electrofye's Cosmic Dust (now owned by Midnight Moon Suris). Our vision is to cross our Electrofyre lines with our newly acquired herdsire from the West Coast, Eldora's Tempo by Rockstar (co-owned with 2 Point and Sie Sutter). As the industry evolves, Raynay evolves in hopes of breeding top-notch suri alpacas that would make any alpaca owner proud, huacaya too!!
We have made some wonderful friends throughout the industry and can't imagine life without these bonds. Our motto IS the GOLDEN RULE. You can bank on our word, and our alpacas! Ray and Candy McMahan.